PrayerForce
Prayer is the most significant thing we can do as an organisation. More can be accomplished in 5 minutes in prayer that 5 hours on a work site. MMM Australia is committed to a strategy of prayer that includes daily devotional & prayer times on every project site over the morning tea break. Regional prayer fellowships that meet regularly to pray for every aspect of MMM activities and its people. The encouragement and devotion of every individual in their personal prayer life.
PrayerForce is a monthly publication of key prayer points for MMM supporters and volunteers, you can download current copies of PrayerForce from the links below
The July 2020 edition of PrayerForce is available for you to download by clicking here.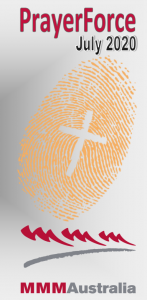 In this most impacting of times we need people to pray […]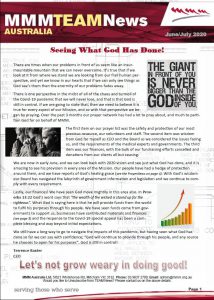 The June/July 2020 edition of MMM TeamNews is available for download by clicking here.

In this edition we […]
TeamNews
TeamNews is the latest update on what is happening across the nation and around the world with MMM project, people, and events. TeamNews is published in hard copy and soft copy and has information and articles from all our regional offices and key leaders.
TeamNews is a bi-monthly publication of events and people across the nation, you can download current copies of TeamNews from the links below
This special edition of MMM TeamNews has been put together in the midst of the greatest crisis our country (and the world) has seen since the second would war. COVID-19 has impacted over 185 countries, with millions infected and tens […]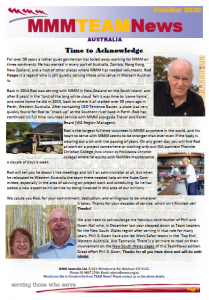 The February / March 2020 edition of MMM TeamNews is now available on-line.
Inside you can read about what's been happening around Australia as well […]
Blogs

Over the past 12 weeks the world has seen tensions grow, fear mounting, and in some cases panic take hold as the Corvid-19 virus has spread throughout the world. Australia has in the […]

On Sunday October 27th MMM is holding our 2019 National Day of Prayer.
We encourage all staff, volunteers, and supporters of MMM to find at least 30 minutes on this day to pray […]
From the CEO's Desk
Black Saturday as it has been named occurred on this day 10 years ago. It is a day that transformed the lives of many Victorian's and affected whole communities.
For MMM the devastation and impact of the fires […]