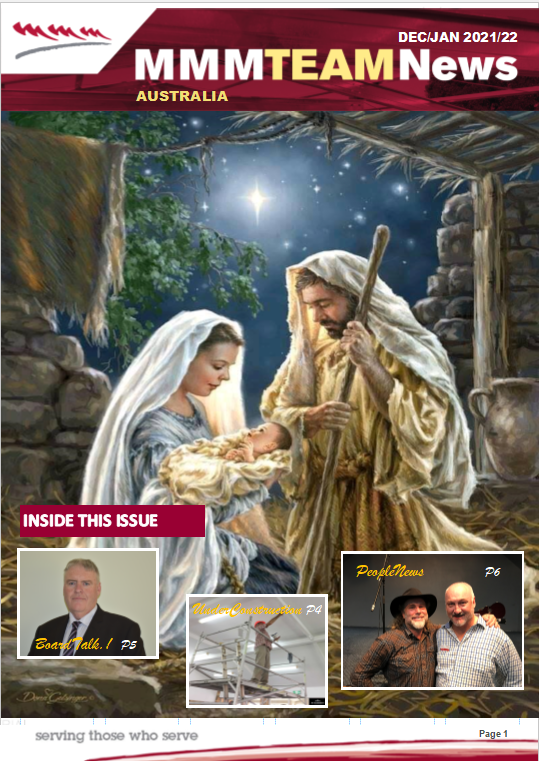 The December 2021 edition of TeamNews is the last in this era of TeamNews. More than 10 years ago we moved from a commercial print magazine to an in-house publication to reduce costs. It was a move that was necessary at the time and has served us well, but it came at a cost. The quality and presentation of in-house publications has been less.
Through the blessing of God, we have been equipped with the software tools necessary to produce the new format ready for professional printing. We have several corporate supporters who are looking at covering the cost of printing and thanks to our NSW volunteer Jason Blockey we have now moved our development platform to Adobe In-Design.
So this edition is a half way move to the new style sheet for our news magazine commencing in 2022. A part of that change will be rebranding with a new name, so we are looking for suggestions on what we can call the new quarterly magazine. There is an advert on page 7 of this edition with the guidelines for suggestions, so all you creative thinkers out there – put your thinking caps on and give us your best ideas for a magazine name. We must credit MMM Tasmania volunteer Jakob (Jack) Vanderwal for inspiring us to return to a commercially printed version, something he has continually suggested for several years.
Our region bases will continue to produce their local TeamNews with information on upcoming projects, people news, and events. Make sure you're on their mailing list so you can keep up to date with events and happenings in your local region.
This TeamNews edition has some insight into the origins of the "nativity scene" so popular around the world. We also have an update "From the CEO's Desk", and a new addition "BoardTalk" with a message from the MMM Australia Board. We have also included "ProjectHappenings", "PeopleNews", and of course our most important section "PrayerNews". We hope you enjoy the last of the old, as a taste of the new. Click here to read or download this edition: December 2021 Edition
If you would like to receive the printed version of the new magazine in 2022 please click on this link and message our Admin team who can include you in our distribution list. (make sure you include your postal address in your message). Click here: MMM TeamNews Admin