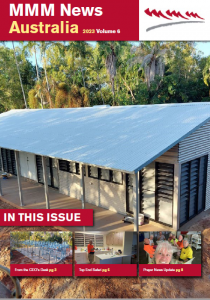 The second edition for 2023 of MMM Australia News (Volume 6) is now available here.
In this edition we have a message from our CEO James Lacey and news of our latest Build-A-Bond project in Maningrida, NT.
You can also read about what's been happening on the Top End Safari.
There's also important upcoming events and activities to know about, including the opportunity to support our Defibrillator Fundraiser and join us for our National Day of Prayer on Sunday 10th September 2023.
Click here to download your on-line copy now.