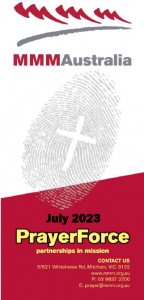 The July 2023 edition of PrayerForce is now available for you to access here.
In this edition of PrayerForce our National Prayer Coordinator, Robyn Fedrick shares a devotion titled: "God's Word is Powerful."

Our 20 key prayer points for July cover various praise points & prayer needs across our regions, projects, volunteers, managers and the Top End Safari.



Our International prayer and praise points this month, focus on the MMM centres in Fiji, South Africa & Thailand.