Welcome to the first edition of MMM News Australia our new quarterly magazine which replaces our previous publication, TeamNews.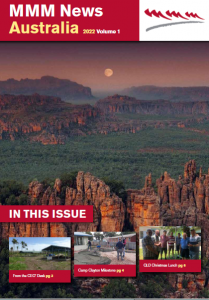 In our first edition of MMM News Australia edition we have some "Thoughts from the Heart" from Dr Ian Grant, some news "From the CEO's Desk", updates in "Projects Happenings" and "People News", and of course our most important section "Prayer News". We hope you enjoy our new publication.
Click here to read or download this edition: MMM News Australia 2022 Volume 1
Our region bases will continue to produce their local TeamNews with information on upcoming projects, people news, and events. Make sure you're on their mailing list so you can keep up to date with events and happenings in your local region.
If you would like to receive the commercially printed version of the new magazine please click on this link and message our Admin team who can include you in our distribution list. (make sure you include your postal address in your message). Click here: MMM News Australia Admin