PrayerForce
Prayer is the most significant thing we can do as an organisation. More can be accomplished in 5 minutes in prayer that 5 hours on a work site. MMM Australia is committed to a strategy of prayer that includes daily devotional & prayer times on every project site over the morning tea break. Regional prayer fellowships that meet regularly to pray for every aspect of MMM activities and its people. The encouragement and devotion of every individual in their personal prayer life.
PrayerForce is a monthly publication of key prayer points for MMM supporters and volunteers, you can download current copies of PrayerForce from the links below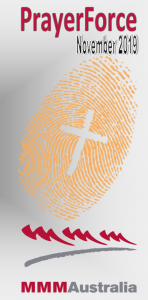 The November 2019 edition of PrayerForce is now available for you to download.
Click here to view or download a PDF copy for your own personal […]

On Sunday October 27th MMM is holding our 2019 National Day of Prayer.
We encourage all staff, volunteers, and supporters of MMM to find at least 30 minutes on this day to pray […]
TeamNews
TeamNews is the latest update on what is happening across the nation and around the world with MMM project, people, and events. TeamNews is published in hard copy and soft copy and has information and articles from all our regional offices and key leaders.
TeamNews is a bi-monthly publication of events and people across the nation, you can download current copies of TeamNews from the links below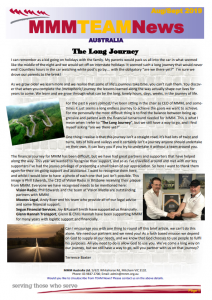 The August / September 2019 edition of MMM TeamNews is now available on-line. In this edition you will find updates on projects from all […]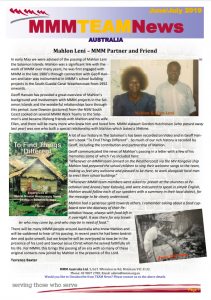 The June/ July 2019 edition of MMM TeamNews is now available on-line. In this edition you will find updates on projects from all regions around […]
Blogs
MMM Australia was nominated in the Community Awards section of the 2017 Whitehorse Business Group awards. The Whitehorse Business Group is sponsored and supported by the Whitehorse City Council (where MMM Australia head office is located). The awards are a […]