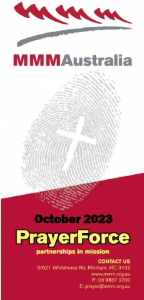 The October 2023 edition of PrayerForce is now available for you to access here.
In this edition of PrayerForce our National Prayer Coordinator, Robyn Fedrick shares a devotion titled: "Corporate Prayer."

Our 20 key prayer points for October cover various praise points & prayer needs across our regions, projects, volunteers, and the Board.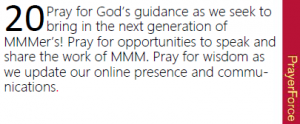 Our International prayer and praise points this month, focus on the upcoming MMM International Alliance meetings to be held in Zambia this month and our MMM centres in Thailand, Fiji, New Zealand and Zambia.