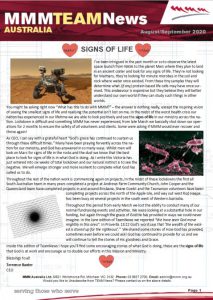 The August/September 2020 edition of MMM TeamNews is available for download by clicking here.
In this edition you can read about the 'signs of life' happening throughout MMM across Australia despite the COVID-19 pandemic.
There is information on how you can be involved with upcoming projects and fundraisers.


Our 2020 National Day of Prayer is coming up on Sunday 4th October, read MMM Prayer News for more details on how you and your church can support this important day.