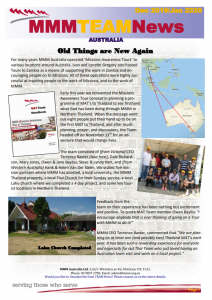 The December 2019/ January 2020 edition of MMM TeamNews is now available on-line. In this edition you will find updates on what's been happening in the regions all around Australia and you can read about the recent Missions Awareness Tour to Thailand.
As usual there is also a whole lot of information on up-coming projects around Australia, things you can pray about and events and fundraisers you can get involved with!
You can read Team News on-line or download a copy by clicking here.