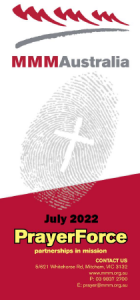 The July 2022 edition of PrayerForce is now available for you to access here.
In this edition of PrayerForce our CEO, Terrence Baxter; shares a new devotion on "Hearing When God Speaks" while our National Prayer Coordinator (Robyn Fedrick) is on maternity leave.



Our 20 key prayer points for July, cover various prayer needs for our regions, projects, volunteers, managers and our Board.


Our International prayer points this month focus on the MMM International Alliance and the MMM work in Thailand and South Africa.
Thanks for joining us in in prayer.
MMM Australia July 2022 PrayerForce.