The June 2020 edition of PrayerForce is available for you to download by clicking here.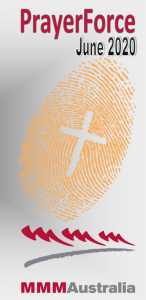 In this most impacting of times we need people to pray like never before. We encourage you to download the PrayerForce PDF and use it every day to pray for MMM across our nation and around the world. Every MMM office is impacted by the COVID-19 pandemic and we need to see God open the way for the Church to be able to function unhindered in its mission.
We encourage you to engage with our Prayer fellowship groups as we meet electronically via Zoom. There are several opportunities to do this throughout the month of June. If you're not sure when or how? contact our National Prayer Coordinator via email today (prayer@mmm.org.au) and you'll be guided how and when to link into a Zoom session.
As restrictions are easing we are recommencing project work across Australia under the MMM COVID-19 Safe Work Methods, please pray for our Region Managers and volunteers as they prepare for and begin projects.

Be encouraged as we seek God's direction, thanks for your Prayers.