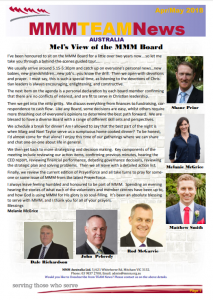 Welcome to the April/ May 2018 edition of MMM TeamNews. We've had a busy start to the year so there is a lot to read about in the latest edition of MMM Team News.

We have updates on Projects from our regions all over Australia.
Have a read and a look at the upcoming projects and the opportunities for people to be involved.
TeamNews is an awesome team effort with contributions coming from the Region staff & volunteers and our CEO Terrence Baxter. It is compiled and edited by Jason Blockey from our Darwin team, and the posted edition is processed by the team from the New South Wales.
Underneath all of this our Prayer Teams have been supporting everything we do in a blanket of Prayer.
Read about all this and more in the April/ May 2018 edition of MMM News, you can download a PDF copy by clicking here.