From: Palita @ MMM Thailand
Are you ready to give hands to those who need your help when you yourself have your own life and busyness to deal with?  Is your schedule flexible enough for God to invade and shine his love through it to bless others?  How far will you go to share the love of Christ?  I was challenged by this very question myself.
I  was asked by my cousin, who lives in a village about 2 hours away from Chiang Rai (where our rented MMM Offices are), to host her younger brother for a month to help him.  He desperately needed to know how to live a disciplined life.  She said he would go out at night and come back home very late or the next morning.  She heard rumors that he was out gambling with his guy friends, smoking and/or playing video games at a local internet café.  She was not happy with his behavior and needed help sorting him out.
After talking to her, I thought to myself, I already had enough stuff on my plate and I did not want to add anything more to my overloaded schedule.  I thought, He's not my brother and so why should I help him?  But, I did not say no!  Instead I went to God and prayed about it.  After praying, I felt peace about hosting him as requested.
It was not as easy as it may seem; "We all had to make sacrifices to make this work."  I asked Bill, an American missionary who runs Shoulder to Shoulder Foundation in Chiang Rai, Thialand, to see if he could give him work to do on the S2S property.  He agreed to help.  He sacrificed some of his already tight budget to pay him.  Then I asked Pedro (MMM Projects Manager) if he would work with him on the work site and work alongside him as well.  Pedro happily agreed to help.  He trained him at the work site and mentored him.  I had to make space in my home (in MMM Thailand's office) for him to live.  We had to share our spaces and personal space for my cousin to move in.
The first and most important thing!  "We did not judge him for anything he might have done in the past."  "We embraced him!"  "We accepted and loved him just as he is."  The same way that God accepts and loves us.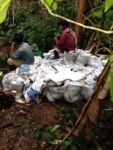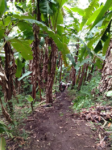 What was his life like while living with us?  First, his village lifestyle and our lifestyle as believers is different.  Here is an example of what I'm talking about.  Look at these pictures.  Normally, he works at a coffee farm near his village.  If there is nothing to be done at the coffee farm he and his co-workers work in the village carrying sand bags or anything else that needs to be done.  After work his co-workers like to invite him to go do all the fun but bad stuff that they like to do.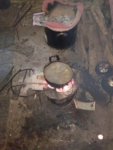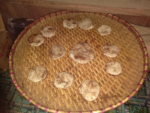 Religious rituals:  His family believes that they need to kill a chicken to make a ritual offering to his ancestors and other spirits to bless the crops he's about to plant.  They believe that by making this offering, the spirits will bless them with an abundant harvest.
He comes from a culture of punishment and condemnation.  People label you according to your mistakes and they remember those mistakes until the day you die.  Even after you pass away, when people talk about you they will only point out your mistakes.  Sometimes, when a person already has "a particular label", you just go and do the same things.  Maybe doing it again will irritate them!  That's the culture he lived in for the past 24 years!  And now he has been introduced to a culture of forgiveness and restoration.  We did not judge him for what he did in the past, but we accepted him for who he is, a child of God!  We allowed him to reflect and re-evaluate his choices and the consequences of actions he made.  We talked to him with genuine love and passion wanting him to change and repent.  All done out of love in Jesus name as ambassadors to the lost in the world.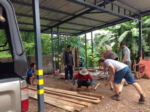 The culture he was introduced to over the past month.  The picture here is Pedro, my cousin, and some of the S2S staff working on an S2S project.  He's surrounded by people who speak positive words and positive energy!  Godly men who encouraged him and accepted him as he is.  We invited him to go with us to a local church on Sunday.  We also encouraged him to attend S2S meetings.  One of the meeting nights, Bill shared his testimony of past mistakes and how God helped him and rescued him from addiction to alcohol and drugs.  After the meeting, I sat down with him and asked what he felt about the meeting.  He talked to me openly and cried for a long time.  He told me about his behavior and mistakes he has made.  He ended by saying that he does not want to repeat the same mistakes again.
I think, listening to Bill's testimony and understanding that God is a God of second chances and that Jesus is the way, the truth, and the life, helped him to see the differences between believers and non-believers.  The past month, he has worked with Pedro 8 hours a day and he has been with me the rest of the time.  Our time together included many different family activities, evenings and weekends.  He has had a taste of God and has seen that God is good.  He realized that he has a choice.  He can say no to his friend's invitation to go out with them.  He understands that there is a difference between Christian believers and his friends back home.  He felt accepted and loved while he was with us!  Knowing that he's loved and accepted as he is, enabled him to open up and talk.  And to let go of some of the anger that he has stored in his heart.  It's amazing to me how one act of obedience to God, by allowing my cousin to invade our daily lives, could make such a difference deep into his soul!!!
Things like these are possible because of MMM Australia's continued support and prayers.  We can never thank you enough for all you do.  We can't do this alone and we thank you that you believe in us and work alongside us as always.
MMM in Thailand staff