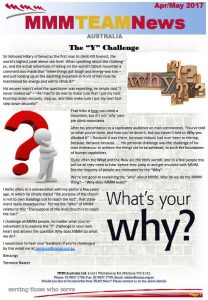 Welcome to the June/July edition of MMM TeamNews.
This edition is full of exciting projects and events. The 2017 WA Safari is well underway and they have completed the makeover of 5 dorm rooms at Scripture Union Camp Geographe, and also completed repairs to the external cladding, installed new windows and a new porch at the Mundijong Heritage Uniting Church.
We also hear from our new VIC/SA Region Manager Geoff Jarvis for the first time, and have a brief report on our annual staff conference held at Wycliffe in May.
TeamNews (PDF Version) is available to download here.
TeamNews is an awesome team effort with contributions coming from the Region staff & volunteers, Jane Bayliss (National Prayer Co-ordinator), and our CEO Terrence Baxter. It is compiled and edited by Jason Blockey from our Darwin team, and the posted edition is processed by the team from the New South Wales.
We're always interested in feedback on all our stories and articles, so if you would like to give us feedback please let your Region Manager know your thoughts. Let them know if there is specific news or information you would like included. You can also contact MMM at our National Office with feedback.