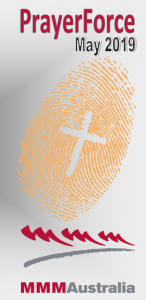 The May 2019 edition of PrayerForce is now available for you to download. Click here to view or download a PDF copy for your own personal use.
This month we pray for our MMM Region Managers, CEO, National Prayer Coordinator and Board as they meet together in Melbourne from May 9th-11th.

We also Pray for more opportunities to share the work of MMM with guest speaking spots in churches, at events or on radio stations.


Your prayers are much needed and appreciated by the entire team at MMM. We cannot do the work we do without the support and prayers of our Associates and volunteers.
Thanks for praying!