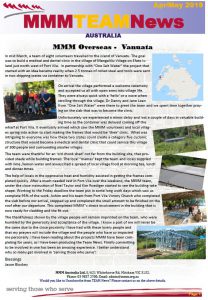 The 2019 April/May edition of MMM TeamNews is now available on-line. In this edition you will find updates on projects from all regions around Australia and a fascinating insight into the off shore project in Vanuatu. A team from across Australia set out to erect a Build-A-Bond designed and manufactured medical clinic in just 9 days….. did they make their target, well you'll just have to read the full article to see what was achieved.

MMM Western Australia is looking for more volunteers, and their article on "Extra Hands Make Light Work" is worth a read, as is the feature story on Western Australian prayer warrior Laurie Hannah on the back page. There are also great articles on the Kingsridge Baptist church in Queensland, adventures on a project in Thorpdale, Victoria, as well as three projects in Tasmania and a variety of projects in New South Wales. ……………. Lots to read!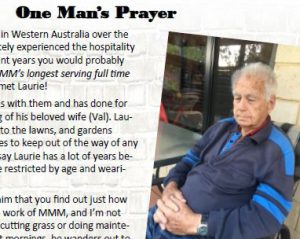 As usual there is also a whole lot of information on up-coming projects around Australia, things you can pray about, and events and fundraisers you can get involved with!
You can read on-line or download a copy by clicking here.