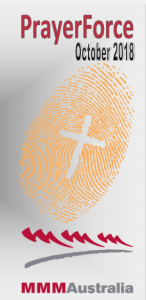 Here it is, the first edition of PrayerForce from our new National Prayer Co-ordinator Helen Bell.
Helen has taken to her new role with gusto and a wonderful insight for the vital things to pray about for the month of October. You can download the October 2018 edition of PrayerForce here. There are a number of key areas to continually pray for including our finances, our project teams, and our staff.
This month we have a wonderful edition to our team with Sarah Boswell joining the volunteer admin team in the Mitcham office. Sarah will be assisting with our Social Media content, and eventually our web content. There is so much for Sarah to learn and understand. Pray for her as she tackles this vital area of our communications.

Pray also for our New Finance Manager – Flora Fung who will be taking over from Diane Jenkins who is retiring at the end of September. Flora joins the Mitcham Volunteers in early October, pray for her as she takes up responsibilities for our finance administration.

Thanks for praying.