December PrayerForce (Collectors Edition)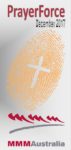 This edition of MMM Australia PrayerForce might just well become a collectors edition! This is the last edition to be produced by Jane Bayliss, retiring National Prayer Co-ordinator. After eleven wonderful years Jane is stepping down from her role to concentrate on activities in the Vic/SA region, assisting Region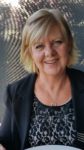 Manager Geoff Jarvis on the State Committee.
One of the key prayer items in this (and many recent) editions is to pray for someone to hear from God and take up the baton from Jane as National Prayer Co-ordinator. This is one of the most vital roles within MMM but also one of the most rewarding. It can be done from anywhere, and keeps you in touch with the front lines of our Ministry, worldwide!

We also have 19 other prayer points for MMM Australia along with 13 international prayer & praise points for the December period. Our regular PrayerForce

will be back again in February – as usual. In the meantime keep praying for God's provision in all areas of our mission, particularly for a new National Prayer Co-ordinator.

To download the December edition click here.