July PrayerForce Available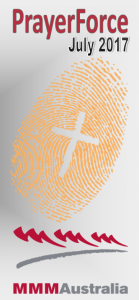 The July edition of PrayerForce can be downloaded by clicking here. 
This month we are praying for guidance for the members of the board as they meet to make some major decisions for MMM Australia.

Our Western Australia safari team is well into their journey and we praise God for the amazing blessing they are being to many organisations.

Your prayers are much needed and appreciated by the entire team at MMM. We cannot do the work we do without the support and prayers of our Associates and volunteers. Thanks for praying!