September Prayer Force Available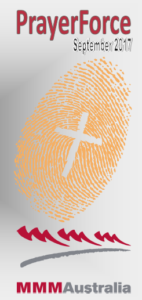 The September edition of PrayerForce is now available for you to download. Click here to view or download a PDF copy for your own personal use.
This month we are looking for all of our prayer network to register and be an active part of our MMM National Day of Prayer. Register now and join us in prayer on the 20th September. 

We pray for those organising the Garage Sale in Mitcham on October 21st that they will receive plenty of quality items to sell and have a successful fundraiser. Pray that this will be a successful day for everyone involved, and that we can raise some much needed funds for MMM.

Your prayers are much needed and appreciated by the entire team at MMM. We cannot do the work we do without the support and prayers of our Associates and volunteers. Thanks for praying!