August PrayerForce Now Available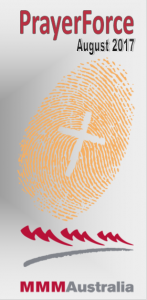 The August edition of PrayerForce is now available for you to downloaded. Click here to open a PDF copy for your own personal use. This month we are praise God for the opportunity to share about the Associates Programme on Vision Radio and pray for new volunteers and associates.

We thank God for volunteers, Noel and Marg Taylor. They both do so much for our mission, Marg is always helping with fundraising events and sorting out meals for different events and activities in our Mitcham offices, Noel is the number 1 man for our Build-A-Bond rolled steel projects. He works closely with Ken Hudson on the engineering design and then is team leader for the steel production. This month we pray for more opportunities for Build-A-Bond projects.

Your prayers are much needed and appreciated by the entire team at MMM. We cannot do the work we do without the support and prayers of our Associates and volunteers. Thanks for praying!